"Every bit as well written as the Big Guys – Patterson, Robb, Roberts, etc, without the sex and street language."
Reader review
The Laurel Highlands seem idyllic, but for Trooper First Class Jim Duncan and Fayette County defense attorney Sally Castle, it's anything but paradise.
Thicker Than Water
Pennsylvania State Trooper Jim Duncan responds to a call regarding a missing autistic young man. When the boy is quickly found, Jim thinks the case is closed…until the young man insists the police need to help a "sleeping blue lady" and leads them to a dead woman in an abandoned shack, clad in only her underwear.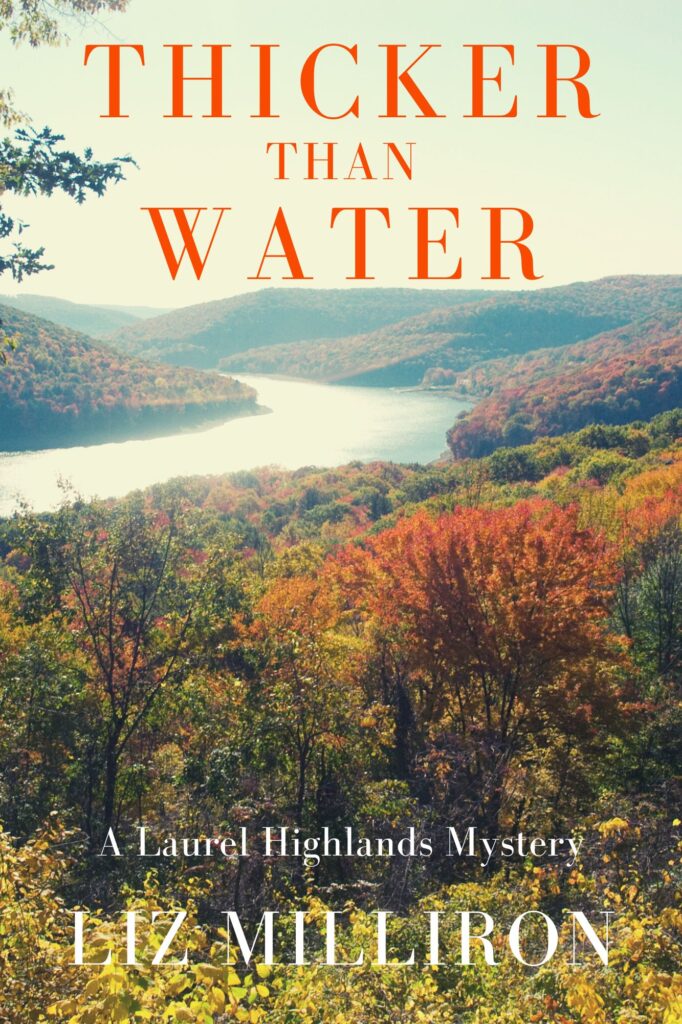 Meanwhile, defense attorney Sally Castle is searching for a troubled young woman who wandered into her office wanting protection from an unnamed man…and disappeared before Sally could obtain any details. Sally is bothered by the incident and unnerved when she discovers that Jim's dead body and her missing potential client are the same person.
Jim and Sally soon discover the young woman led a secret double life, with ties to the autistic boy who started it all. As Jim and Sally investigate, the case takes increasingly ominous turns, uncovering hidden money and a seamy underbelly of sex work, before turning into a desperate race to stop a killer. Can Jim and Sally solve the case in time to stop the murder of an innocent boy?
What people are saying
"A pitch-perfect procedural with excellent pacing, and crisp dialogue. It's the relationships that had me speeding through the pages. This is one where I didn't see the ending, and where a crime was a crime, but I sympathized with the motivation. Brava!" — Gabriel Valjan, Agatha, Anthony and Shamus-nominated author of the Shane Cleary Mysteries series
"The author knows how to tell a story that grips you from the start and never letting go until the last page has been read. This was a riveting tale with a missing young man and the murder of a young woman who had inquired about help from Sally. … The author did a great job in staging this mystery with a few strategically placed twists, where some were eliminated and some moved up a notch, especially when the author changed direction to how this story was going to play out. Overall, this was an excellent addition to the series and one of the best books thus far and I can't wait to see where we go next with Jim and Sally and their friends." – Dru Ann Love, Dru's Book Musings (2017 MWA Raven Winner)
Lie Down with Dogs
Trooper Jim Duncan's first day with the Criminal Investigation Division starts off with a bang when he is called to a murder scene with a badly decomposed body. After he finds an abused greyhound in the victim's garage, the simple homicide becomes more complicated. Why would anyone want an unreliable racetrack employee dead, especially when greyhound racing is illegal in Pennsylvania?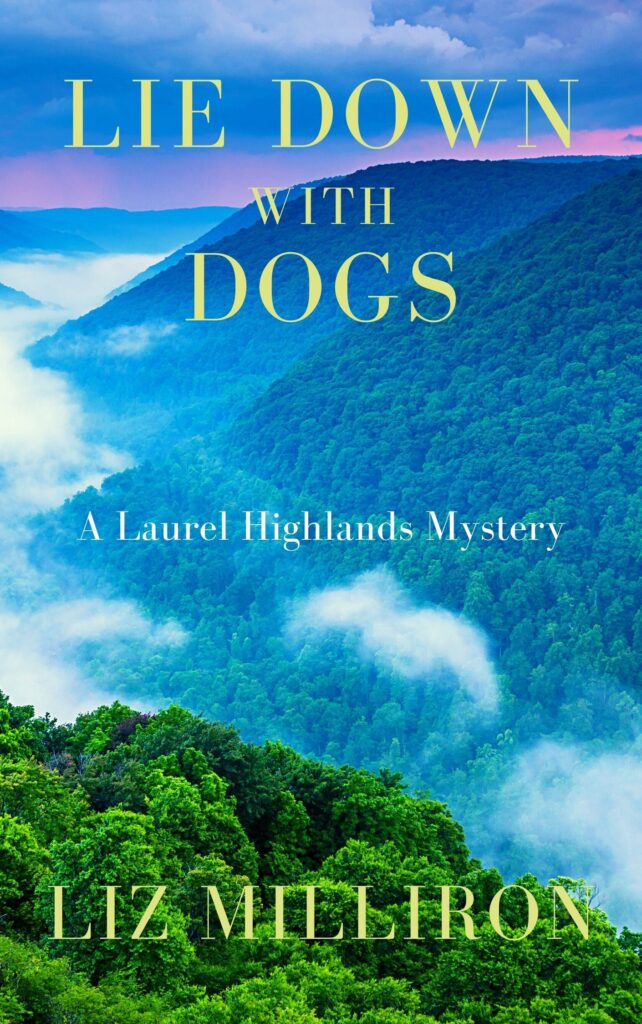 Assistant public defender Sally Castle is facing her own career change. When she accepts a position with an old law school friend, her first case seems to be one that is exactly what she wants to do. Then she learns the greyhound adoption group her client may have embezzled from has ties to the shooting victim. What else is her client hiding?
Jim and Sally work their respective investigations, which may or may not be related. Along the way, they learn important lessons about themselves, those they work with, and the people they protect. But can they complete their tasks without falling prey to a killer?
What people are saying
"Liz Milliron's best novel yet! Love in the time of murder, with a fascinating and sharply-written insider's view of greyhound racing and its abusers and desperate hangers-on. Don't miss it!" – Peter W. J. Hayes, Derringer and Silver Falchion-nominated author of the Vic Lenoski mysteries
"Lie Down with Dogs is another fast-paced tightly-plotted mystery from Liz Milliron. Highly recommend!" – Bruce Robert Coffin, award-winning author of the Detective Byron Mysteries
"Lie Down with Dogs is a compelling mystery that keeps you guessing, as a murder investigation draws us into the tawdry, cruel, and in this case, deadly underworld of illegal dog racing." – Kerry K. Cox, author of the Nick Tanner Crime Thriller series
"A murdered man, greyhound dogs, and embezzlement all play a role in the story being told as Duncan starts a new job and Sally's role has changed. The author set the stage for a dynamic tale where the plight of greyhounds is in the background but are the focus of what is happening between the pages. The mystery was expertly provided with a few suspects and red herrings that had me guessing until all the pieces fell into place. " – Dru Ann Love, Dru's Book Musings (2017 MWA Raven Winner)
Harm Not the Earth
When Southwest Pennsylvania's summer rains flood the Casselman River, State Police Trooper Jim Duncan finds a John Doe body in what is initially believed to be a tragic accident. But when a second victim, John Doe's partner in an environmental group at odds with a nearby quarry operation, is rescued, all thoughts of accidental drowning are abandoned. After Jim is invited to join the official investigation, he begins to think a career shift might be in his future.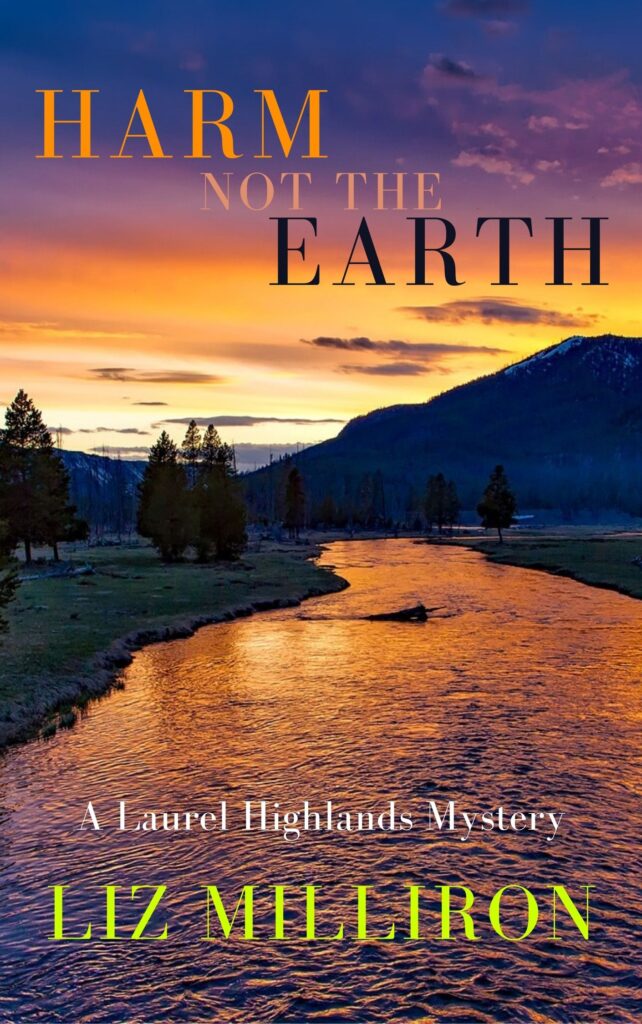 Meanwhile, Assistant Public Defender Sally Castle is approached by an abused woman who is accused of murdering her abuser. Although the rules prevent Sally from taking the case, she steps outside her office to help the woman and discover the truth.
As their separate cases become intertwined, Jim and Sally struggle to determine if their new paths can be traveled together or if they will divide their newly repaired relationship. And equally important, will they be able to bring a killer to justice before another innocent life is lost?
What people are saying
"Like fine wine, this series continues to get better with time, and you want to savor every sip. The prowess of the characters to do the right thing is evident in this well-written and executed mystery that immediately grabbed my attention." – Dru Ann Love, Dru's Book Musings (2017 MWA Raven Winner)
"Liz Milliron expertly introduces the characters, and the scenic landscape of Southwestern, PA. Then, ride along shotgun, as one by one she systematically examines each lead and ticks down the suspects. In her typical style, the reader feels the action and the characters come alive on the page. Another great read in the Laurel Highland Mystery series" – Reader review
Broken Trust
When Pennsylvania State Trooper Jim Duncan responds to a murder scene at a local mining company, the call hits close to home. The victim, Lonnie Butler, is a friend and neighbor who was just beginning to get back on his feet after a year of financial difficulties. Despite entertaining out-of-town family, Jim vows to stay involved in the case.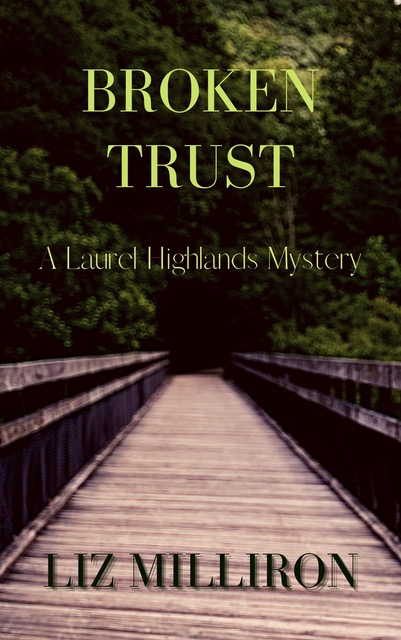 Meanwhile, Fayette County Assistant Public Defender Sally Castle faces an ethical dilemma. Her newest client, Ethan Haverton, may be deeply involved in Lonnie's homicide. Technically, Sally could break privilege, but she chooses not to, a decision that put her at odds with Jim.
As the investigation continues, the rift in Jim and Sally's friendship deepens. Can the battling couple patch the break and bring the killer to justice—or will their discord allow a friend's killer to go free?
What people are saying…
"State Trooper Jim Duncan and public defender Sally Castle make an irrestible crime-fighting duo in Broken Trust, the new mystery in Liz Milliron's Laurel Highland series. Compelling; fast-paced; and filled with twists as Jim and Sally try to balance their jobs and their personal relationship while on the hunt for a killer in rustic Pennsylvania. Highly recommended." – R.G. Belsky, author of the Clare Carlson mystery series
"This was an enjoyable read and one of the best books in this fabulously terrific series and I can't wait for more adventures with Jim, Sally, and their friends." -Dru Ann Love, Dru's Book Musings (2017 MWA Raven Winner)
Heaven Has No Rage
State Trooper Jim Duncan's quiet overnight shift turns deadly when fire destroys a ski lodge at a local resort and the first responders find a man's body inside. What starts as a suspicious accident quickly becomes sinister when the autopsy proves the victim is not the man who rented the cabin. Jim's left with three questions. Who is John Doe? Why was he at the ski lodge? And who hated him enough to kill him?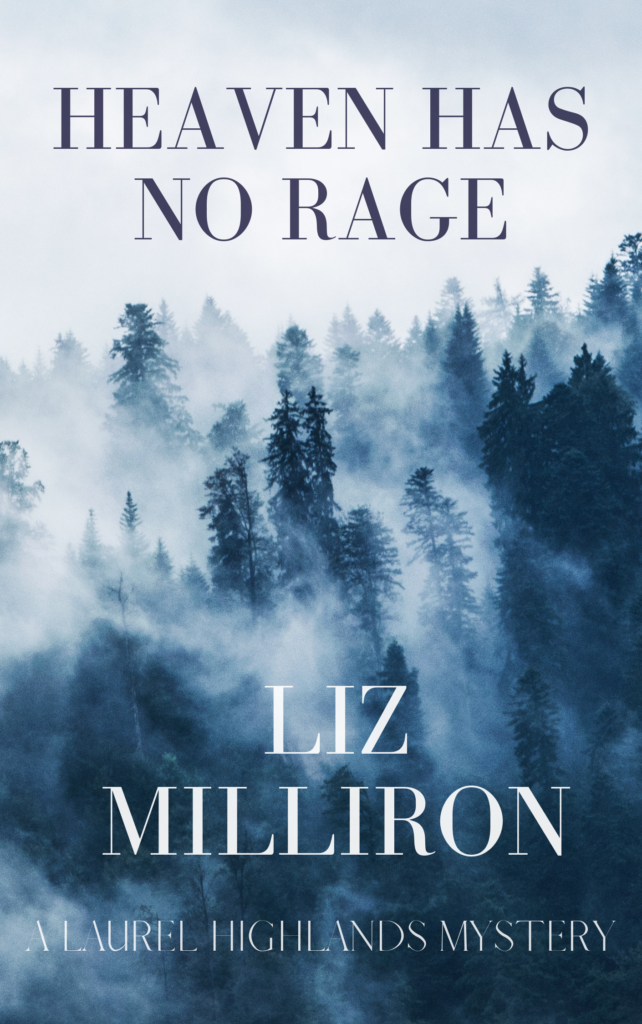 Assistant Public Defender Sally Castle, still reeling after the events of several months earlier, tries to bury her feelings of guilt and fear in her work.
When an anonymous note from a secret admirer arrives at the courthouse, she brushes it off as an empty threat. As the missives, each one darker than the last, continue to arrive at her office as well as her home, Sally is forced to review all of the possibilities. Is the letter writer a person from her legal past? Or is the threat closer to home?
As the questions multiply, Jim and Sally are thrown into a race to find a murderer as well as a stalker…before Sally ends up facing more than an unwanted pen pal.
What people are saying…
"Milliron writes a tightly-coiled plot with evocative language that readers can easily sink into. With Heaven Has No Rage, she stakes her claim for a long-running series featuring these flawed, but loveable, characters." – Kristopher Zgorski, BOLO Books (2018 MWA Raven Winner)
"With visually descriptive narrative, the author knows how to tell a story with engaging dialogue and action-filled tale that never let go, until the very end. This well-written drama reached a feverish pitch as the story came to its conclusion and I was holding my breath as I watched it play out. Well done. I enjoyed this book and I look forward to more adventures with Jim, Sally and the gang in this terrific series." – Dru Ann Love, Dru's Book Musings (2017 MWA Raven Winner)
"Obsession, betrayal, and gred conspire to create surprising twists and breath-stealing suspense in this riveting page-turner." – Kathy Valenti, Agatha-nominated author of the Magging O'Malley mysteries
Root of All Evil
Rumors of a meth operation in rustic Fayette County catch the attention of Pennsylvania State Trooper Jim Duncan. When he learns that Aaron Trafford, a man who recently dodged a drug conviction, has returned to the county, the conclusion seems obvious. Trafford has set up a new operation.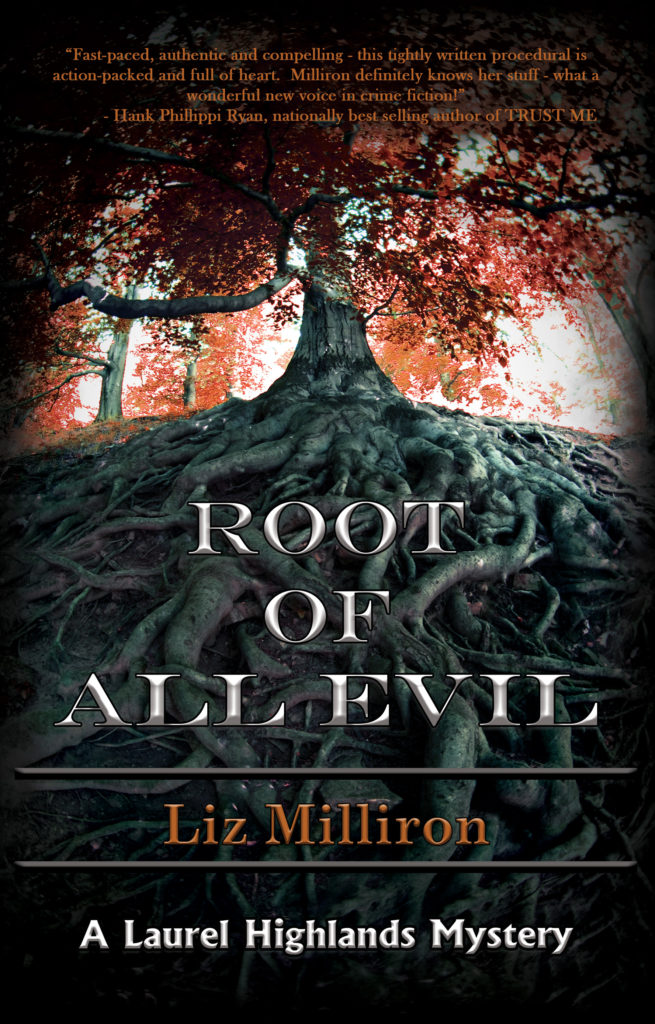 Meanwhile, assistant public defender Sally Castle's colleague, Colin Rafferty, has become uncharacteristically nervous and secretive. Her suspicion that he's hiding something serious is confirmed when she learns of a threatening visitor and discovers a note on his desk stating, "You'd better fix this"
Colin's subsequent murder is the first frayed thread in a complex web of deceit. Jim fears Sally's stubborn determination to get justice for her friend will put her in a killer's crosshairs, but Sally won't rest until she finds answers–even if it costs her everything.
What people are saying…
"With a compelling plot, engaging concept and characters worth cheering for, Root of All Evil will keep you rooted to your seat." – Kathy Valenti, Agatha-nominated author of the Maggie O'Malley mysteries
"Big city crime encroaches on the lush backdrop of Pennsylvania's rustic Laurel Highlands in this tense and gritty debut. Liz Milliron has crafted a tightly written, heart-pounding tale of suspense that will keep you on the edge of your seat from page one until its explosive conclusion." – Annette Dashofy, USA Today bestselling author of the Zoe Chambers Mystery Series
"Lawyers, guns and money; Root of All Evil is a true page-turner." – Bruce Robert Coffin, bestselling author of the Detective Byron Mysteries
"Root of All Evil is a gripping read! Sally Castle and Jim Duncan are complex characters with genuine depth, and the pacing is impeccable. Tensions on multiple levels will keep you turning the pages of this riveting police procedural." – Cynthia Kuhn, author of the Agatha-winning Lila Maclean Academic Mysteries
"Fast-paced, authentic and compelling – this tightly written procedural is action-packed and full of heart. Milliron definitely knows her stuff – what a wonderful new voice in crime fiction!" – Hank Phillipi Ryan, nationally best-selling author of Trust Me