Can a video game teach Jaycee how to survive middle school?
Self-described eighth-grade nobody Jaycee Hiller just wants to survive school. But when she gets a new video game controller and finds herself inside the world of her favorite video game, Hero's Sword, survival takes on a whole new meaning. Inside the digital world of the game, Jaycee – as her avatar Lyla Stormbringer – must use her wits and her skills to aid the lovely Lady Starla Caval. As she moves through her adventures, aided by friend and mentor Roger Woodbridge, the question is not only can she survive in Mallory, but can she learn enough to survive middle school?
Written under the name "M.E. Sutton," all of the Hero's Sword books are available in all formats and in print.
Available at: Amazon, Barnes & Noble, Kobo, iBooks, and CreateSpace
All Jaycee Hiller wants to do is survive eighth grade. Mostly that means hanging with her friend, Stu, avoiding the cheerleading squad, secretly crushing on Nate Fletcher, and playing her favorite video game, Hero's Sword.
When she receives a new video game controller, Jaycee finds herself magically transported into the Hero's Sword video game world. Survival takes on a whole new meaning. No longer battling with a plastic joystick, Jaycee picks up a real sword and bow & arrow and readies herself for battle.
Can she save Lady Starla's rule in Mallory, keep herself in one piece, and maybe even learn something about surviving middle school?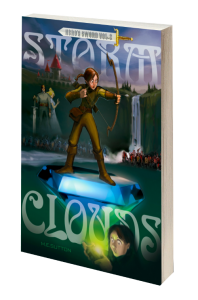 Storm Clouds – Book 2
Available at: Amazon, Barnes & Noble, Kobo, iBooks and CreateSpace
Eighth-grader Jaycee Hiller is beginning to fear she only imagined her trip to Mallory. But when a rainy afternoon leaves her with hours of playing Hero's Sword, her favorite video game, she finds herself drawn back into the game – literally.
In Storm Clouds, the second book in the Hero's Sword series, a valuable jewel belonging to the neighboring estate of Devin, the Sapphire Star, is missing, stolen at the Fall Consortium. Lady Starla stands accused of the theft. Devin's demands are clear: return the Star or they will take it back by force.
Now it's up to Lyla Stormbringer to find the Star and the thief. before Mallory finds itself at war.
Available at: Amazon, Barnes & Noble, Kobo, iBooks and CreateSpace
Lyla has long believed that Roger and Lady Starla belong together even though Roger insists that Starla is above his station. When handsome and noble Perry Goodhaven shows up and wins the lady's affection, it seems at quick glance a more fitting match.
Soon after Perry's arrival, Roger and other servants close to Lady Starla notice a change. She sleeps a lot more than usual, is lethargic when she is awake, and defers important decision-making to Perry.
With Roger incarcerated over false accusations of treason, it is up to Jaycee, aka Lyla Stormbringer, to clear Roger's name and uncover the truth about the man positioning himself to rule Mallory with an iron fist.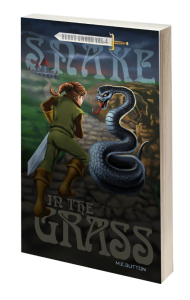 Snake in the Grass – Book 4
Available at: Amazon, Barnes & Noble, Kobo, iBooks and CreateSpace
Things are getting interesting at Tanner Middle School. The only official candidate for student council president is Jaycee's nemesis, Trina Poppelman. Plus there's a new girl in school. At first glance, she looks like she'd fit right in with the cheerleaders, but Jaycee senses something different about her.
Things are getting interesting in Mallory, too. Lady Starla is expecting an Imperial envoy to discuss new taxes. She plans to oppose the measure and asks Lyla to stand by her side in a show of support. However, when the envoy goes missing, the situation becomes a lot more serious than a proposed tax increase.
In this fourth installment of the Hero's Sword series, Lyla and Roger hit the road to find a missing envoy before Starla pays the ultimate price for his disappearance. Along the way, Jaycee learns that winning isn't always the end-game result.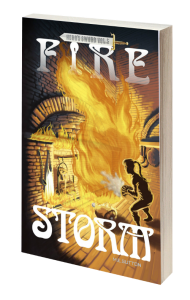 Fire Storm – Book 5
Available at: Amazon, Barnes & Noble, Kobo, iBooks and CreateSpace
Running for student council president seemed like a good idea at the time, but the campaign strategy sessions with Kara have Jaycee realizing just how much work is involved. Then there's the strain it's putting on Jaycee's friendship with Stu, who is not exactly being supportive.
Escaping to Mallory is no escape from drama. Upon arrival, Lyla meets Rowenna Blacking, young nobility fleeing the neighboring estate of Trevayne amid accusations of theft and arson. Rowenna insists she's been framed by her own brother in a bid for estate rule.
When a similar fire breaks out at Mallory Manor it adds more urgency to the situation. Joining forces with Galen, her male counterpart from Trevayne, Lyla must find solid evidence as to whether Rowenna is guilty or innocent–or if the answer lies somewhere in between.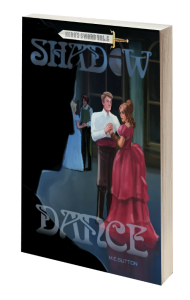 Shadow Dance – Book 6
Available at: Amazon, Barnes & Noble, Kobo, iBooks and CreateSpace
The election is over and Jaycee lost. Or did she? When she is asked to serve as the eighth grade's representative to Student Council, Jaycee realizes she can still change things at Tanner. That is, until Kara points out it also means attending the Homecoming Dance.
Seeking a respite from shopping, Jaycee turns to her favorite video game. The Fall Council has convened early in response to the Dark Blade Crisis. Arriving in Mallory, Lyla learns that attending the Fall Council means going to the ball. And wearing a dress.
At the Council Ball, Lyla meets a mysterious stranger from an Eastern estate. Does he hold answers? An explosion at the Council makes finding those answers crucial. As the clock ticks down to Dark Blade's promised next catastrophe, Lyla and Galen gather the other heroes for aid in their quest to save the assembled nobles.
But can Roger, Starla, and Galen help Jaycee with her biggest challenge: surviving Homecoming?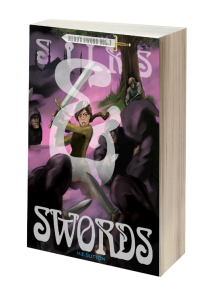 Silks & Swords – Book 7
Available at: Amazon, Barnes & Noble, Kobo, iBooks, and CreateSpace
Jaycee is tiring of the never-ending clashes with Trina in Student Council. An escape into Mallory is exactly what she needs. When she arrives, Lyla learns that Lady Starla has been in contact with an Eastern noble–a noble who claims to have information about Dark Blade. The quest is simple: Lyla and Roger must journey to the estate of Berasta to see whether the information is valid or yet another false lead in the search for the elusive enemy.
Except the quest turns out to be not that simple. After a near-fatal encounter. Lyla is forced to go with plan B.
Now Lyla must once again team up with Galen Lightningstaff to complete her quest. Doing so means learning a new skill: the fine art of alliance-building. A lesson that may help her in the real world and hopefully relieve the tension in the Tanner Student Council, too.