Betty Ahern thought she knew where her life was going – until her fiancé was drafted and shipped out for North Africa during WWII. With her older brother also overseas, Betty is holding down the homefront, working at Bell Airplane and living in Buffalo's rough and tumble, working-class First Ward district. Secretly, Betty cherishes another dream. A film buff, especially of movies like "The Maltese Falcon," Betty dreams of becoming a private detective. As Betty solves crimes with the help of childhood friends Dot Kilbride and Lee Tillotson, it's "Rosie the Riveter meets Sam Spade" in a series that explores life on the home front, especially for women, during WWII with splash of whodunnit thrown in for good measure.
The Truth We Hide
May 1943. Betty Ahern is studying for her private investigator's license when a new client—Edward Kettle—hires her to clear his name after he was dismissed from his job at the American Shipbuilding Company. When Edward is brutally murdered, the dead man's sister hires Betty to finish the original job and find the killer.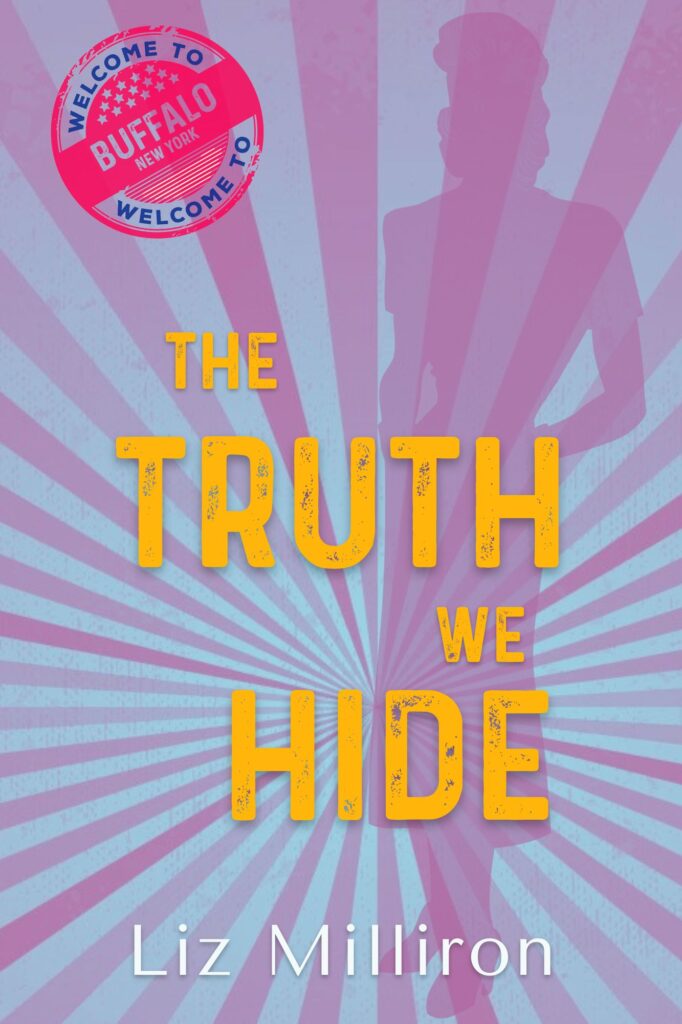 The job hurls Betty back into the world of wartime espionage, but with a twist: Edward Kettle was a homosexual. Did he know something about underhanded activities at American Shipbuilding? Or was his secret life the motive for murder?
Once again, Betty must unravel the mystery, which requires uncovering truths that others would prefer to keep hidden—a job that threatens not only her morals and beliefs, but also her life.
What people are saying
"Budding private investigator Betty Ahern takes on a new case that has her questioning her own belief system and prejudices in this charming, thought-provoking, and impeccably researched historical mystery set in World War II era Buffalo. This superbly crafted mystery provides the perfect entry point to Milliron's Home Front Mysteries."
— Edwin Hill, author of The Secrets We Share
"In The Truth We Hide, Milliron captures the snappy pace of 1940s P. I. thrillers with sharp dialogue and delicious period detail. Unlike most detective fiction of the time, she explores the homophobia embedded in the period and in her layered protagonist, Betty Ahern. Will Betty see past her upbringing to acceptance? It's the mystery underneath the mystery of this engaging novel."
—John Copenhaver, award-winning author of The Savage Kind
The Lessons We Learn
March 1943. As the Buffalo winter ends, the father of Betty Ahern's friend, Lee Tillotson, disappears. At first his absence is a relief, providing Lee, his mother and sisters refuge from the man's frequent drunken rages. But when Mr. Tillotson is discovered drowned in the Buffalo River and the police charge Lee with the murder, the family's newfound peace shatters.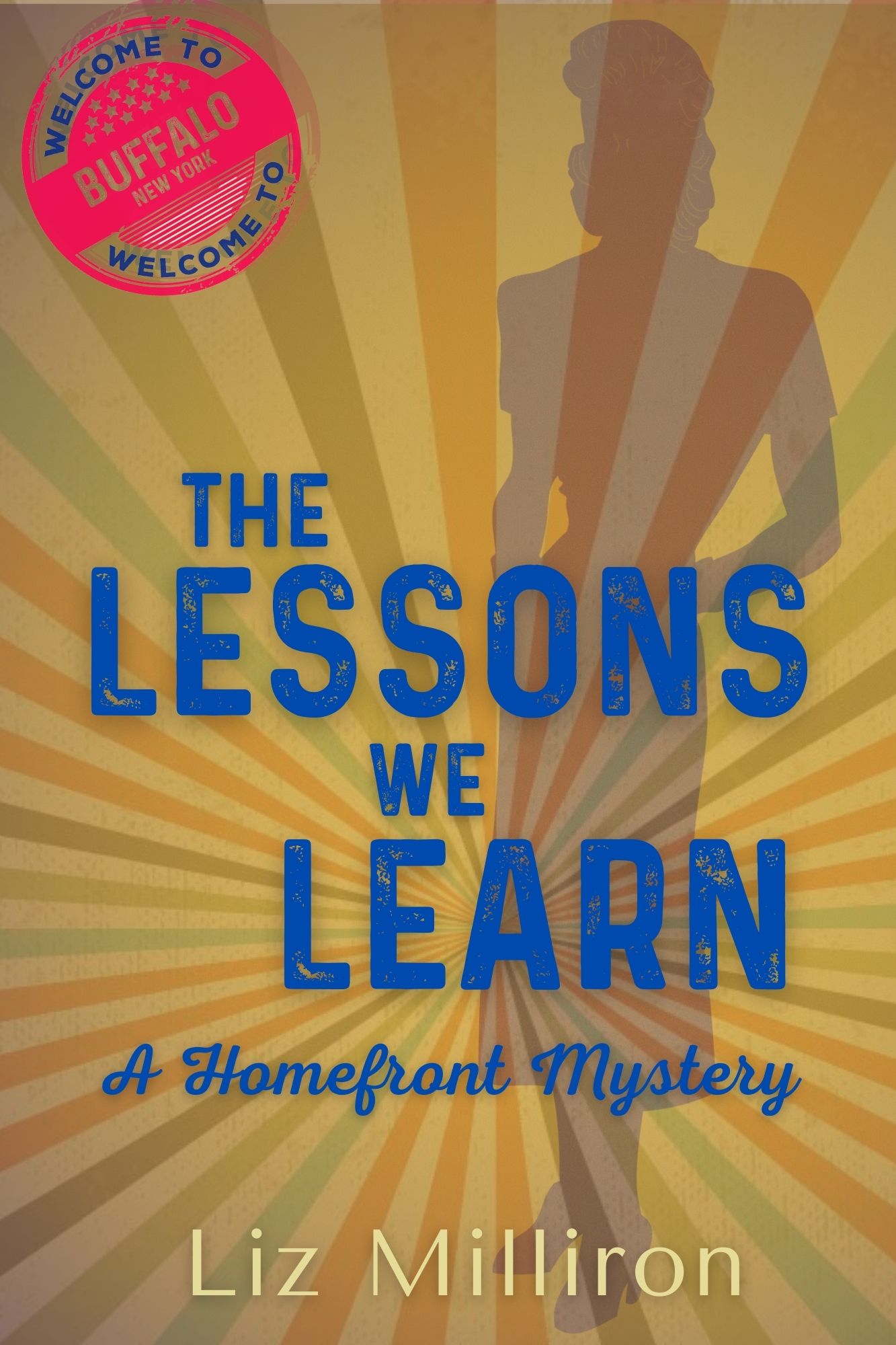 Worse, Lee becomes secretive and unwilling to cooperate with Betty or the police. Betty is certain of Lee's innocence, but there she has very little time to investigate before he must enter his plea in court. To prove Lee's innocence, Betty digs into Mr. Tillotson's life, discovering a seamy and dangerous underside to Mr. Tillotson, and to Buffalo itself. With time running out, Betty soon learns who her friends really are, how much Lee loves his family and friends and is loved in return, and just how far the corruption leaking from Buffalo's City Hall has reached. But can she prove Lee's innocence before it's too late?
What people are saying
"As WWII is being fought overseas, an entirely different battle is being waged on the home front, in Buffalo, New York. Milliron offers an authentic glimpse into the life of a woman on the cusp of coming into a new world of her own making as she fully embarks on becoming a private investigator. Intriguing, charming, and a delight to unravel the mysterious murder of her dear friend's father, readers will truly enjoy Betty, the memorable, plucky PI."
– L.A. Chandlar, award-winning author of The Art Deco Mystery Series
The Stories We Tell
It's December 1942 and Betty Ahern is enjoying her fledgling career as a private detective, investigating everything from missing jewelry to wandering boyfriends. But when Bell Airplane co-worker Emilia Brewka, whose grandmother recently died, wants Betty to prove the death was murder and not natural causes, Betty thinks Emilia's grief has her seeing things that aren't there.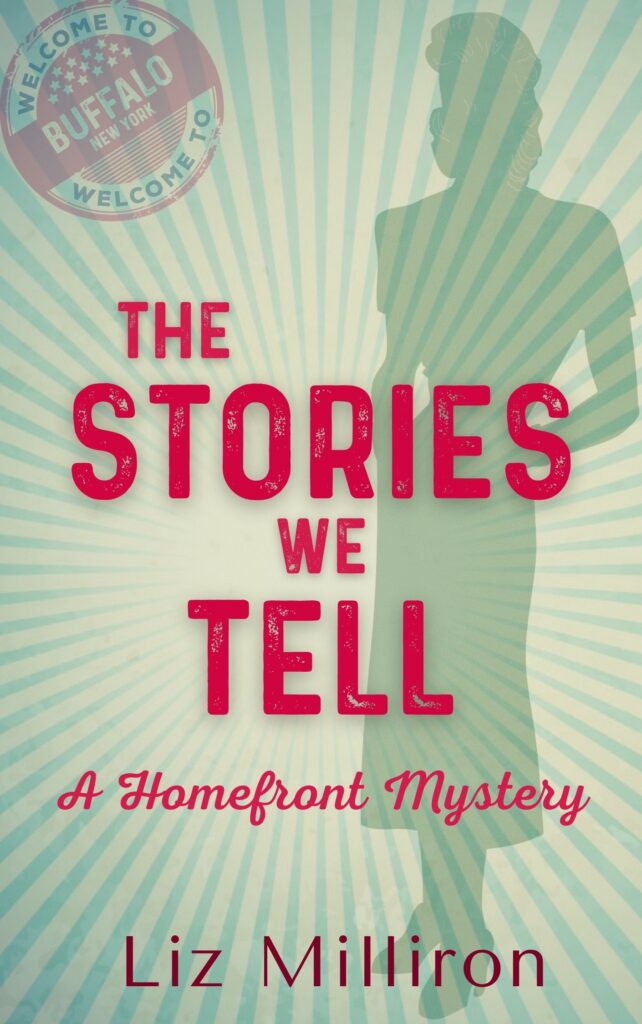 After a member of the visiting Polish government in exile is murdered, she learns the grandmother may have contacted him about a secret involving a wealthy Buffalo family – a secret that goes all the way back to the Old Country and the aftermath of the Franco-Prussian war. Suddenly, murder looks more than possible.
Betty and her friends travel between Buffalo's working-class neighborhoods and the city's high society, determined to unearth the secret and find justice for Emmie's grandmother. But mixing with the upper class quickly becomes dangerous and potentially deadly—both for Betty's career as a detective and herself.
What people are saying
"Betty Ahern is still honing her detective skills in Liz Milliron's second Homefront Mystery, but she's shaping up beautifully despite opposition at home and the demands of that pesky day job, building planes. The Stories We Tell has its dark side, but Buffalo's First Ward in 1942 is still a world of warmth and charm, where Betty's honour, loyalty, and sheer moxie are guaranteed to win the day."
– Catriona McPherson, multi-award-winning author of the Dandy Gilver Mysteries
"Liz Milliron delivers an affectionate and unexpected glimpse of WWII era Buffalo through the eyes of her determined and spunky sleuth."
– Jessica Ellicott, author of the Beryl and Edwina mysteries
"A refreshingly different take on WWII with a home front drama involving Polish exiles in Buffalo and an appealingly gutsy Irish American heroine (who reminds me of my own Molly Murphy)."
– Rhys Bowen, NYT and #1 Kindle bestselling author of the Royal Spyness and Molly Murphy series as well as internationally bestselling stand alone novels
The Enemy We Don't Know
November, 1942. Betty Ahern is doing her part for the war, working at Bell Aircraft while her older brother and fiancée are fighting overseas, but she really wants to be a private detective like her movie idol Sam Spade. When sabotage comes to the plant, and a suspected co-worker hires her to clear her name, Betty sees it as her big chance.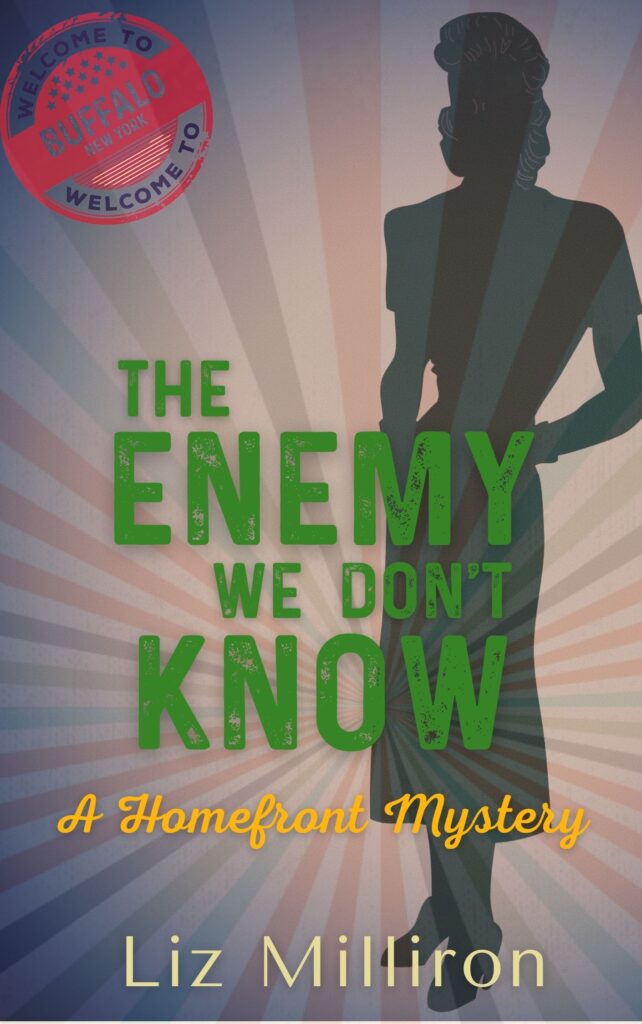 As her questions take her into Buffalo's German neighborhood, Kaisertown, Betty finds herself digging into a group that is trying to resurrect the German-American Bund, a pro-Nazi organization. Have they elevated their activities past pamphlets and party-crashing?
When the investigation leads Betty and her two friends into a tangle of counterfeiting and murder, as well as the Bund, the trio must crack the case–before one or more of them ends up in the Buffalo River…wearing concrete overshoes.
What people are saying
"World War II on the home front comes alive in Milliron's new-series debut as Betty Ahern solves more than one mystery even while toiling in a Buffalo airplane factory with other young women. The story is riveting, Betty's courage and persistence are a delight, and her sidekicks provide perfect support and caution. The Homefront Mysteries promise to keep you on the edge of your seat…and smiling as you read."
-Edith Maxwell, author of the Agatha-award winning historical Quaker Midwife Mysteries
"Liz Milliron gives us a charming new series that I absolutely love and think you will too. Betty Ahern is feisty, loyal, and determined. Finding her way in a traditionally men's world, she not only helps the war effort by working at Bell Airplane, she's following her dream to become a private eye with a little help from her friends. If Sam Spade and Rosie the Riveter had a love child, she'd be Betty Ahern."
-Annette Dashofy, USA Today-bestselling author of the Zoe Chambers Mysteries
"A lively, richly atmospheric novel, set in the defense plants and ethnic neighborhoods of World War II Buffalo, NY, The Enemy You Don't Know is "Rosie the Riveter Meets Sam Spade." With fresh, idiosyncratic dialogue from a charismatic narrator, Liz Milliron delivers a compelling, crackerjack of a novel. Betty Ahern is the irrepressible heroine. Smart, stubborn, and—yes—reckless, she works in a defense factory building airplanes for the war effort. At least when she's not investigating disturbing acts of sabotage at the plant, snooping into the murder of a co-worker's brother, or keeping her eye on some suspicious Nazi sympathizers. And all this while doing her best to circumvent her parents' strict Irish-Catholic house rules. Readers will love this tale of derring-do on the home front."
—James W. Ziskin, author of the Anthony and Macavity award-winning Ellie Stone mysteries